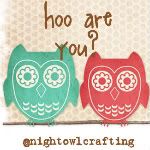 1. Do you like to listen to Christmas music? I absolutely LOVE Christmas music!
It puts me in such a good mood! I could seriously listen to it year around!

2. Are you one of those people who get all their shopping done early, or do you do most of it in December?
I am a half and half person...I do some before Thanksgiving and I do some in December as well! I like to leave a little for me to do closer to Christmas!

3. Do you set a budget on how much you spend on each person?

Yes I usually spend about $20 to $25 on each person but if I can find something for them on sale then I usually do that

!

4. Do you send out Christmas cards?
Most years I do but I am not sure if I am going to this year! I am just not feeling it...


5. Do you enjoy this holiday season or does it stress you out?
I like the holiday season but it sometimes stresses me out because I feel like I have too much going on! It just kind of depends!