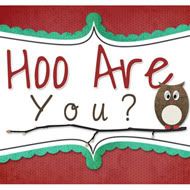 1. What did you get/give for Valentine's Day?
The hubby and I went out to eat at Olive Garden and then we went to see "Gnomeo and Juliet" in 3D! I recently lost my job so the hubby and I said we weren't giving each other anything as far as gifts go, but since he has been working so hard at work (like 10 hrs a day and on Saturdays) I gave him a gift certificate from our chiropractor's office to get a massage! As far as my gift goes, the hubby is paying for me to go with a friend's church to the Extraordinary Women's Conference that is in March! I am so excited! I can't wait to go! Casting Crowns will be performing!
2. Do you have a vacation planned in the next couple of months or in the summer?
Probably not since I don't have a job, and hopefully if I get a job soon, I won't have vacation days for a while...
3. What is one thing you do to pamper yourself?
Nothing really...I'm not a real girly girl so I don't really pamper myself!

4. What sparks your interest to other people's blogs?
The way they "talk" in their blogs, the type of projects they make, the pictures they take! I like a wide variety of things!
5. What kind of a mood are you in today?
I was really bored today...kind of blah!