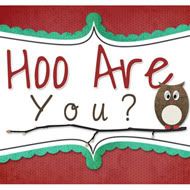 Here are this week's questions!
1. What are your favorite 3 things about fall?
1) Pumpkins, leaves, and fall decorations 2) Taco soup and chili 3) Fall festivities-festivals/fairs, football games, Halloween!
2. Are you a football fan and if so who is your favorite team?
No not really a fan...My husband and I like to go watch high school football but I really don't know much about the game! I know what a touchdown is and that is about it! LOL
3. What is your favorite fall scent? Pumpkin pie
4. So you have seasonal allergies? Yes, as a matter of fact my allergies have already started kicking in. :(
5. Have you started Christmas shopping yet? Yes I have! I have already got something for my two sisters, for my mother, something for my sister-in-law, and some stocking stuffers! I am starting to get stuff as I see it.