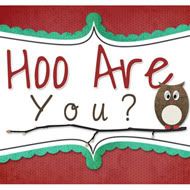 1. Do you type on a keyboard the correct way or do you peck like a cute little chick? No, I do it the correct way! I took typing in high school and then I went on to a Business & Computer class at vo-tech so I definitely type the correct way! I have no excuse not too! :)
2. Typically how long does it take you to get ready in the morning? I get ready really fast...I usually take about a 5 to 8 minute shower and then I get my clothes on and I don't really wear makeup just powder and lip gloss and that is it! It probably takes me 10 to 15 minutes to get ready!
3. Do you prefer lip gloss or lipstick? I am a lip gloss girl! I love lip gloss! I found some really good stuff at Bath & Body Works that is called "Mentha Lip Tint" that I just absolutely love!!
4. Do you take clothes to the dry cleaner or wash them yourself even if they say dry clean only? I don't really buy clothes that are "Dry clean only" so I usually am able to wash and clean them at home...
5. Do you prefer Walmart or Target? Well, I normally shop at Walmart because I live like a mile away from one and I have to drive into town to even go to a Target...so I do most of my shopping at Walmart...plus I think they tend to be a little cheaper than Target anyway!