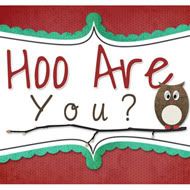 1. Is all your Christmas shopping done? Yes! But I still need to wrap everything!
2. Do you decorate for Christmas and if so when? Yes, I am slowly getting my decorations out this year...I already have my tree up but I just put it up this last weekend. I still need to get my decor out in my kitchen!
3. Do you bake during the Holiday season? Not usually...I did, however, go to my friend's house the weekend before Thanksgiving, and we made a bunch of fudge! I made a WONDERFUL White Chocolate Peppermint Fudge! It was delish! :)
4. What are your favorite smells of this time of year? I love Vanilla, Apple Cinnamon, candles that smell like baked goods! YUMMY!
5. What are your favorite things to do during the Holiday Season? I love watching tons of Christmas movies, drinking hot chocolate, going to parties, looking at Christmas lights...there is a church that is not far from where I live and they always (every year) have a wonderful Christmas display all over their campus. I love to drive through it or get out and walk through it! It is so much fun!