A few weeks ago, one of my good friends and I decided we wanted a beautiful Fall wreath for our front doors. So what did we do? We ran to our closest Hobby Lobby and got the supplies we needed to make this bad boy!
We got a grapevine wreath (which I found out I am allergic to!!), a fall garland, some flowers, a couple pumpkins, fall colored berries, and some pretty ribbon and we got started putting it all together! We first wrapped the fall garland around the grapevine wreath (hot gluing as we went) and then tucked in some fall colored berries (as filler). Then we took the flowers and pumpkins and glued them into place. Lastly, we made a wreath hanger with a fall colored ribbon that we bought so we could hang this beauty on our doors!
I think I might make a big bow to put on top of this beauty! I already have it hung up outside of my front door and it looks SMASHING! LOVE it even though I was allergic to it! LOL
I LOVE this time of year, don't you? Bring on the holidays!
Thanks for stopping by! Have a great rest of the week!
Love,
Ruthie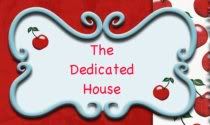 " />